Saturday, April 30
We are beginning a series where we talk to some of the behind the scenes people that make everything happen in hip-hop, "Movers and Shakers." We would never get the wonderful finished product if it wasn't for publicists, studio engineers, promoters, etc... The only criteria will be that the subject is moving, and we find them interesting. Our first installment covers Harlem via Texas publicist CeCe Vance. We first met her when D & D covered Herb McGruff. We've been checking for her ever since, and her work in the last year is phenomenal. Not satisfied with acquiring two clients from Young Money, she recently started representing "Flavor of Love's" Deelishis. Hit the cut for our Q & A.
Friday, April 29
Appearances by Vado, Wiz Khalifa, Juicy J, & more.
Tracklist and DL after the cut
Appearances by Sean Price, Freeway, Joell Ortiz, & more.
Tracklist and DL after the cut
Tracklist and DL after the cut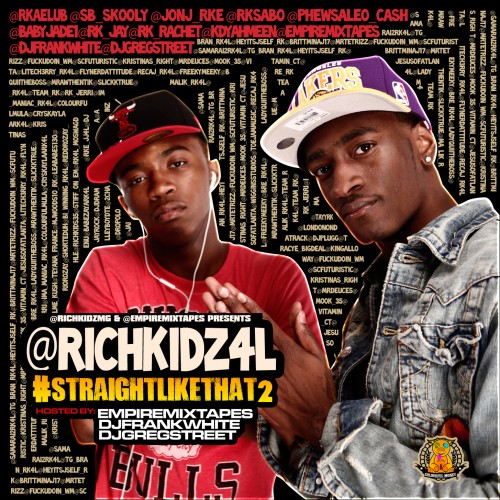 Tracklist and DL after the cut
Click to download
Ok Dinero Entertainment, we see you.
Appearances by Mysonne,Charlie Clips, Jim Jones, Freekey Zekey, + more.
Tracklist and DL after the cut
Activist Helps Urban Artists Succeed
By Mike Andrews
     She jumpstarted Eminem's career. She let David Banner live on her couch for half a year. She rubbed shoulders with Tupac.
Rap Coalition
founder
Wendy Day
is silently but powerfully one of the most important people in the rap music industry; and you've probably never heard of her.
     After starting the Rap Coalition in 1992, a not-for-profit organization started to help out rap artists who were being taken advantage of by major labels, 49-year-old
Wendy Day
has devoted nearly half her life to bettering the artists who make up her favorite genre of music.
"As a fan of rap music, I was hearing all the different stories about artists getting jerked; and I didn't understand why these guys who are, like, my heroes were ending up at the ends of their career," said Day.
Thursday, April 28
Tracklist and DL after the cut
Recent Supreme Court decisions regarding search and seizure haven't exactly signaled an unyielding reverence for our 4th Amendment rights, so I shudder to think how the Court will rule on this:
Kentucky police were following a man who had just sold drugs to an undercover informant. They entered an apartment breezeway, heard a door slam and found they had two choices.




Behind door No. 1 was the dealer. And, unfortunately for him, behind door No. 2 were Hollis King and friends, smoking marijuana.


Smelling the drug, the officers banged loudly on King's apartment door and identified themselves as police. The officers said they heard a noise and feared evidence was being destroyed. They kicked down the door and found King, two friends, some drugs and cash. [Washington Post]

Emcee/producer/road warrior Tom de Geeter is the tireless engine behind the one-man band known asSpeed Dial 7. You may know De Geeter as one half of Zucchini Drive, one third of Cavemen Speak, one fourth of Nuccini, and one fifth of Gunporn.

Originally from Kortrijk, Belgium, De Geeter has evolved from hardcore-kid to alternative rap teenager to mental-patient adult and beyond. His sound has been influenced by his world travels with Zucchini Drive, and by learning the ways of the sword. De Geeter puts his vocals on whatever he thinks will work, from sample-based foundations to original melodies.

While touring for his October release Short Rich Apocalypse, De Geeter drew inspiration from the places he played, artists he met, and floors he slept on to cook up the spontaneous and energetic 11, threaded together with a spread of driving rhythm, eerie melodies, and dark humor. Guests include Mike Ladd, Pip Skid, Passage, Nomad and Elissa P.